Enddo Job Matching App (Job matching made easy in the Philippines)
Category:
StartUps
|
Author:
Anonymous
|
Published:
2016-11-26 20:40:55 |
Times Read:
1530
---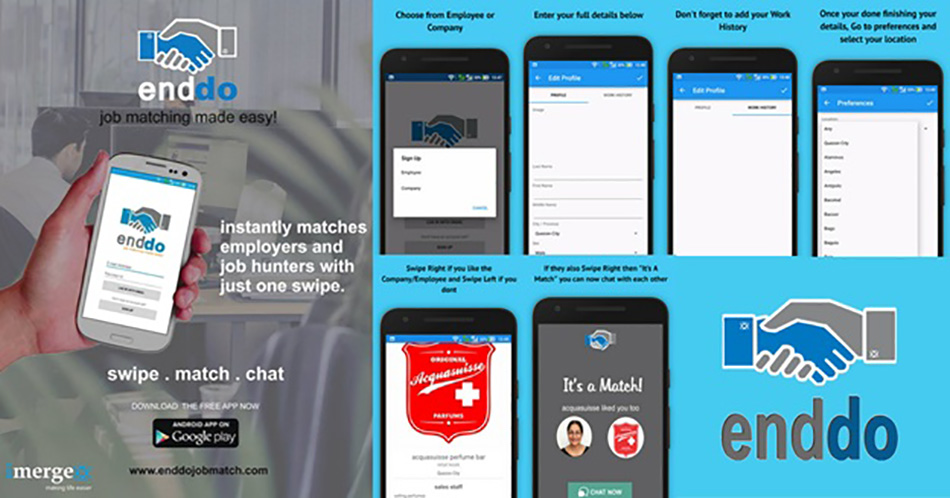 Armando O. Bartolome
Typically, an applicant goes to a company to apply for a job and submit the requirements needed. But there is no assurance that the applicant will be accepted, and there is a need to apply in other companies, which means spending more for food and transportation.
Enddo eliminates the need to spend going to different companies to apply. By downloading the app, a job hunter can instantly apply with any company that he or she wants and just wait for the company to respond.
Both company and employee may sign up using the Enddo mobile app. The company will post their requirements in hiring for new available positions. When an employee signs up, he or she will be able to see the list of companies that are currently hiring. The applicant can switch from the list of companies by swiping.
A swipe to the left means that the applicant is not interested in that company. Swiping to the right marks it as an opportunity for the applicant to be hired if the applicant meets the requirements of the company.
If an applicant passes the initial screening through chat, a job match occurs. The applicant will then be asked to report to the office and submit other requirements prior to hiring. It is as easy as "swipe, match, and chat."
This vision of the app developers is to be able to increase employment without the hassle of falling in line at job fairs.
Enddo, the first job matching app in the Philippines, is on beta mode and available for download at Google Playstore. It will soon be available on iOS.